Russian Blue Cats: Character and care. The Russian Blue cat is a balanced and mysterious cat. He is at home with calm people who aren't too busy or stressed. He is not a good pet for children who are loud or in a noisy environment. He is an affectionate cat who is easy to care for. We have all the details about his care and origin.
CHARACTERISTICS OF RUSSIAN BLUE CAT
Russian Blue Cats are sweet, introverted cats. The Russian Blue Cat can be attached to its owner, and will thrive in a quiet environment. They love to play but are not fond of noise and crowds. As long as the Russian cat is played with enough, it can be kept indoors. The Russian cat has a slim, elegant body with a short, blue-grey coat.
Russian is the name of this playful, lively cat. He doesn't like crowds or noise and is proud to be Russian. They are intelligent, independent, and can get along with children and pets. Russian cats are not fond of strangers and may be reluctant to meet new people. Russian cats can become attached to their owners and be shy.
PHYSICAL CHARACTERISTICS RUSSIAN BLUE CAT
Let's now look at the physical characteristics of this breed.
BODY, LEGS AND TAIL
The Russian Blue's body is muscular and long with fine to medium bones. The legs are straight and strong, and the feet can be either oval or round. The tail is long and straight. The tail appears thick at first but then taper to a point.
HEAD, EARS, AND EYES
The head is wedge-shaped and short, with a flat skull. The nose line is straight, and the ears are on the top of the head. The ears are broad at the base with slightly rounded tips. The large ears are covered with short, very short hair only on the outside. The chin is strong, straight and aligned with the tip. Large eyes are brightly colored, almond-shaped, and set apart. The color of kittens' eyes can vary from yellow to green.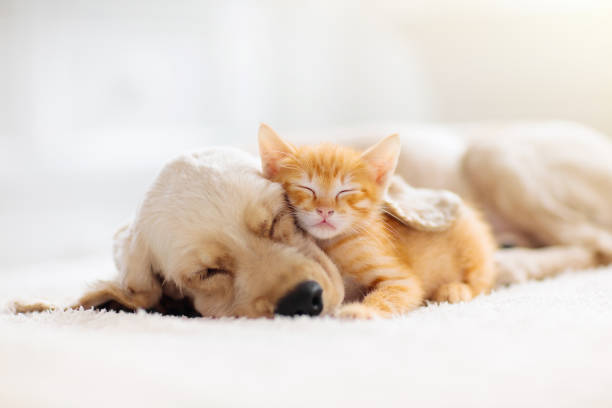 FUR
The coat is very fine and dense, with a short length. The coat is slightly elevated from the skin and looks like a stuffed animal. It has a double layer of silky hair and a dense undercoat. The undercoat can be damaged if the coat is not brushed regularly. You can brush your coat once per week. You can brush your fur once a week during the shedding phase with a soft brush.
WEIGHT
The Russian blue cat's weight ranges from 3 to 5.5 kilograms.

Cat breeds russian blue cats 2

EUROPEAN RUSSIAN BLUE CAT
There are some European versions of the Russian Blue Cat that are smaller and more compact than others. They also have a more sleek body. A Scandinavian-derived variant has a stronger physiognomy, longer fur, and a slightly longer body.
AMERICAN RUSSIAN BLUE CAT
The Russian blue cat, however, is also a breed of American origin. It has a more stylized body and smaller ears than the original.
HISTORY OF RUSSIAN BLUE BREED
The Russian Blue is a Russian-born cat. The origins of this cat breed are shrouded in mystery. Although we don't know the true origin of this breed, it is believed to have come from Arkhangelsk in Russia. It was hunted for fur at that time. Another theory states that the Russian Blue was born in England in the 1900s. One thing is certain, the Russian Blue breed survived World War II thanks to the hard work of British breeders. The standard was also changed in the 1950s due to the addition of new crosses, which were necessary to reconstitute this breed at that time.
Another interesting theory about the origins of the Russian Blue Cat is that it originated in the Mediterranean Basin or in Spain. Although there aren't any documents that can certify this, the Russian Blue cat has been called the Maltese Cat or the Spanish Blue.
In the late 19th century, the breed was brought to America. The official name of the breed was established in 1939. The breed was almost extinct after World War II. The remaining members are crossbred with blue British shorthairs and blue point Siamese to preserve the breed.
Cat breeds russian blue cats 3
The British and Scandinavians have helped the breed recover, while gaining an oriental-type physique. Crossbreeding was the only way breeders were able to restore their original morphology in 1960. In Japan and the United States, it has seen a huge increase in popularity.
RUSSIAN BLUE CAT CARE
Russian blue cat care is simple. It consists of brushing the fur with a suitable, short-haired comb. Also, the ears should be cleaned.
FOOD AND HEALTH FOR THE RUSSIAN BLUE CAT
Cat breeds russian blue cats 5
Food should provide nutrients that are essential for the cat's growth and health. Ideal food for cats is a diet that includes fish and meat. You can give him cat food but it should be of high quality. There is nothing to be concerned about on the side of your health. He is not known to have any particular disease. This breed is not also associated with any hereditary diseases. As we've already said, brushing your dog regularly is essential to keep it from swallowing hairballs.
RUSSIAN BLUE CAT CURIOSITY
Cat breeds russian blue cats 4
A semi-longhaired Russian Blue is the Nebelung, which means "creature of the mist". After several crosses, the breed was first introduced to the United States in 1980. Its morphology and length are the same as its cousin. Because its hair is not prone to tangling, it is easy to maintain. This breed is very rare.